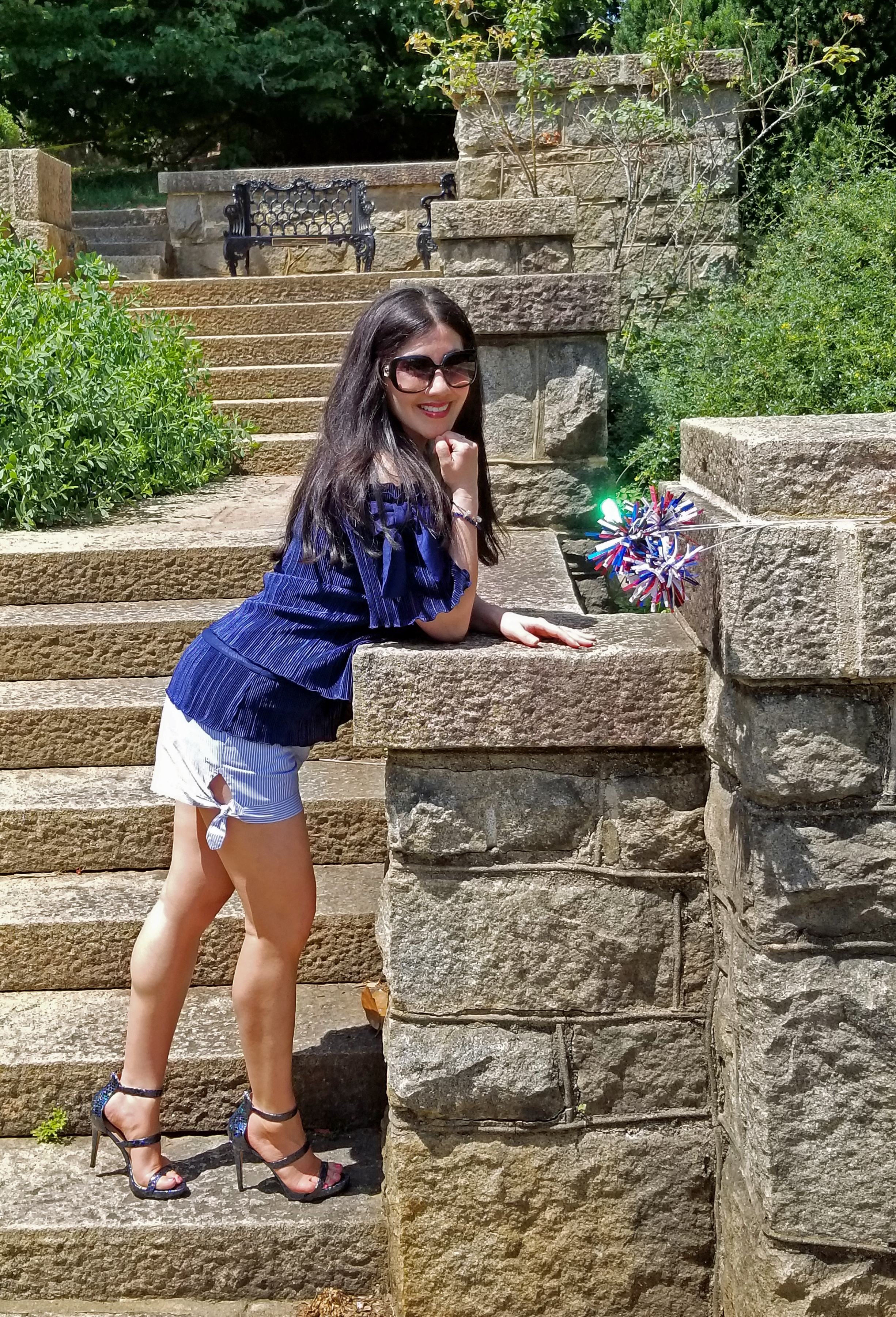 When the New Kids on the Block (NKOTB) reunited back in late 2007, I was one of the lucky fans who saw them live on the Today Show on May 16, 2008, their first live concert since 1994!  Now an adult, it was exciting and surreal to watch the boyband of my childhood performing right in front of me.  Donnie Wahlberg (my favorite New Kid) flashed his million dollar smile at me and my heart raced as I smiled back.
That concert marked the beginning of their reunion tour and I knew I had to be a part of it.  Fortunately, I met a group of like-minded girls and beginning in 2008, we went on tour with NKOTB.  We went to dozens of concerts up and down the East Coast in the first years of their reunion.  I felt like I was re-living my childhood…only better this time around because of all the access we were blessed to have with the guys.   
When NKOTB announced their Total Package Tour for Spring/Summer 2017 late last year, I reached out to my good friend Courtney to see if she was interested in getting back on tour.  Courtney has been my concert partner since we met and so I could not imagine going to a New Kids concert without her.  My other friend, Jacky, was a concert partner too, but as the years went on, other priorities in her life took focus which left me and Courtney as sidekicks.  This time around, Jacky wanted to join us and we were excited to have the group back together. 
The biggest surprise was my East Coast BFF, Packy.  She voiced her interest in going when she learned Paula Abdul would be part of this tour.  I couldn't believe Packy, who never had any interest in NKOTB, would now be joining us in her first ever NKOTB concert.  She kept insisting, "I'm not there for NKOTB, I'm there for Paula Abdul."  Courtney, Jacky, and I were hopeful that would change after this concert.      
Part of the NKOTB experience for me, Jacky, and Courtney is purchasing VIP tickets that guarantee front row seats and a Meet and Greet photo op with the guys.  I explained to Packy that she would have to pick a New Kid to pose with, but she was not interested.  She even asked if she could skip it.  I most certainly would not let her skip it. 
She finally agreed and asked, "Can I just pose with Mark Wahlberg then?"
Ha!  I asked if she even knew who was in the group.  She exclaimed, "Marky Mark, right?" 
I laughed and advised her not to repeat this to Mark's brother, Donnie Wahlberg, when she meets him.  Her response, "I knew one of the Wahlbergs was in the group!"  😉 
I sent her a picture of the group and after some thought, she picked Joey McIntyre.    
The Meet and Greet photo op is like a hot minute.  We are ushered in for a few seconds of chit chat with each New Kid.  Two pictures are taken and then we are escorted out.  Packy got in and said hi to each New Kid.  When she got to Joey, she said, "You must be Joey, I'm posing with you."  Jacky explained to Joey it was Packy's first concert and he was very happy to hear that.   
Afterwards, Packy said it was an interesting experience and it would have been more meaningful if she actually had an interest in the group.  I can only imagine all the Blockheads who would have traded places with her in that moment.  😉
The concert was great!  Boys 2 Men gave a solid performance and Paula Abdul was AMAZING!  Who knew she could still dance like that after all these years?!  I enjoyed seeing Paula's choreography as she sang all her hit songs. 
When NKOTB hit the stage, Packy erupted in laughter.  I think she was reacting to all of us as we screamed in unison for our favorite boy band.  As the show rolled on, I could tell she was enjoying it.  Surprisingly, Packy even knew the chorus of some of their songs.  I was impressed and told her so. 
At one point Donnie came out in a romper which prompted me to do a double take.  A romper, really???  He was right in front of us when Packy screamed to me:  "Is your man wearing a romper?!"  Then, she busted out laughing.  I couldn't help but laugh at her reaction.  In Donnie's defense, he is very fashion forward.  😉
My favorite part of the show was the nostalgia bit when NKOTB reminded us through words and music of where it all began in 1988 with "Please Don't Go Girl" and continued down memory lane up until the present.  I am always nostalgic when it comes to my childhood and I am so grateful to NKOTB for being such a constant in my life (even when they were not together).  It is because of them, I've met so many great friends.  It is because of them, I am so blessed to have so many good memories.    
After the show, we were all curious to know what Packy thought.  She said it was a great show, but their music is just not her cup of tea.  Sigh…I'm just happy I finally got to share my love of NKOTB with my East Coast BFF and for that I am so thankful.
Have a wonderful week.  🙂
Lizzy's Latest for this week is the INC International Concepts Sadiee strappy dress sandals.  My review of these heels will post on Wednesday of next week.  For now enjoy the pictures.