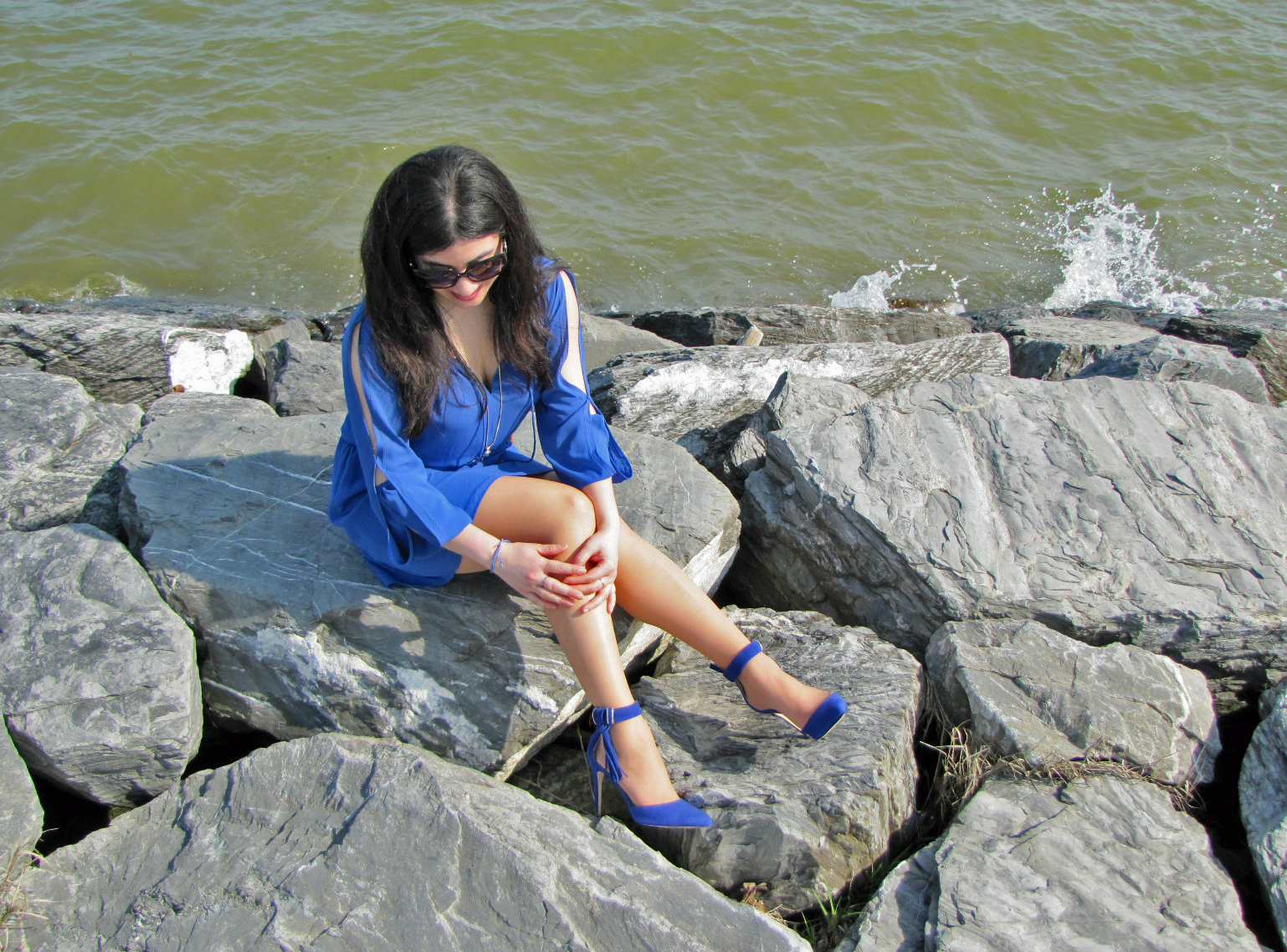 The Nine West Everafter pumps are so chic!  The first thing that caught my eye was the fringe detail at the ankle.  Yes, two years later, my love affair with fringe continues.  😉  Fringe is definitely still trending in 2017 and when paired with approximately 4-inch stiletto heels, adds a sexy and playful vibe, in my opinion.  🙂  
Wanderlust led us to Coltons Point in St. Mary's County, Maryland.  My only requirement was that there be water in the background.  Coltons Point fit the bill!  It is a small historic town located along the eastern shore of the Potomac River.
At Coltons Point, we visited St. Clement's Island Museum and enjoyed a short film about the area.  I was reminded that in 1634, English settlers, fleeing religious persecution, boarded two ships, the Ark and the Dove, and headed to the New World.  The ships landed on St. Clement's Island in the Province of Maryland.  If you're a regular reader of my blog, this might sound vaguely familiar.  Well, I wrote about it last year after a photo shoot in Historic St. Mary's City where a replica of the Dove is docked.  🙂
I did learn something new from this experience.  St. Clement's Island is actually offshore about 1.5 miles from Coltons Point.  There is a seasonal water taxi that shuttles tourists to the island.  It is on that island that a beautiful 40-foot commemorative cross stands representing the cross the settlers erected after they landed.  Unfortunately, the water taxi was not running the day we were there, so St. Clement's Island will continue to be a future spot to explore.
In the meantime, we took pictures on the pier and around the waterfront.  Interestingly, we caught the attention of a group of local men.  They followed us, from a distance, to each location.  At one point, two of the guys passed me talking in loud voices.  I suspect I was supposed to hear part of the conversation because as they passed, one guy spoke about the time he dated a model and had to frequently shuttle her to various shoot locations.  Ha!  I wanted to say, "I'm not a model, just a humble shoe blogger!"  😉
Speaking of shoes, these heels are gorgeous!  The shade of blue is so rich and they were pretty comfortable, though by the end of the afternoon, my feet were beginning to feel the effects of 4-inch heels.  😉  It probably didn't help that I was climbing on the rocks and later, running around a baseball field. 
These heels are still available here, though sizing might be limited.  A quick internet search for "Nine West Everafter Fringed Pumps" will bring up more results as well.  
I paired the pumps with this blue dress with cut-out arms.  Cut-out-arms is trending and quite elegant, in my opinion.  🙂 The heels would also look great with cropped slacks and skirts.  Of course, to show the full impact of the sexy fringe, you must show some leg!  🙂  I suppose I say that a lot!  😉 
Style with a smile!