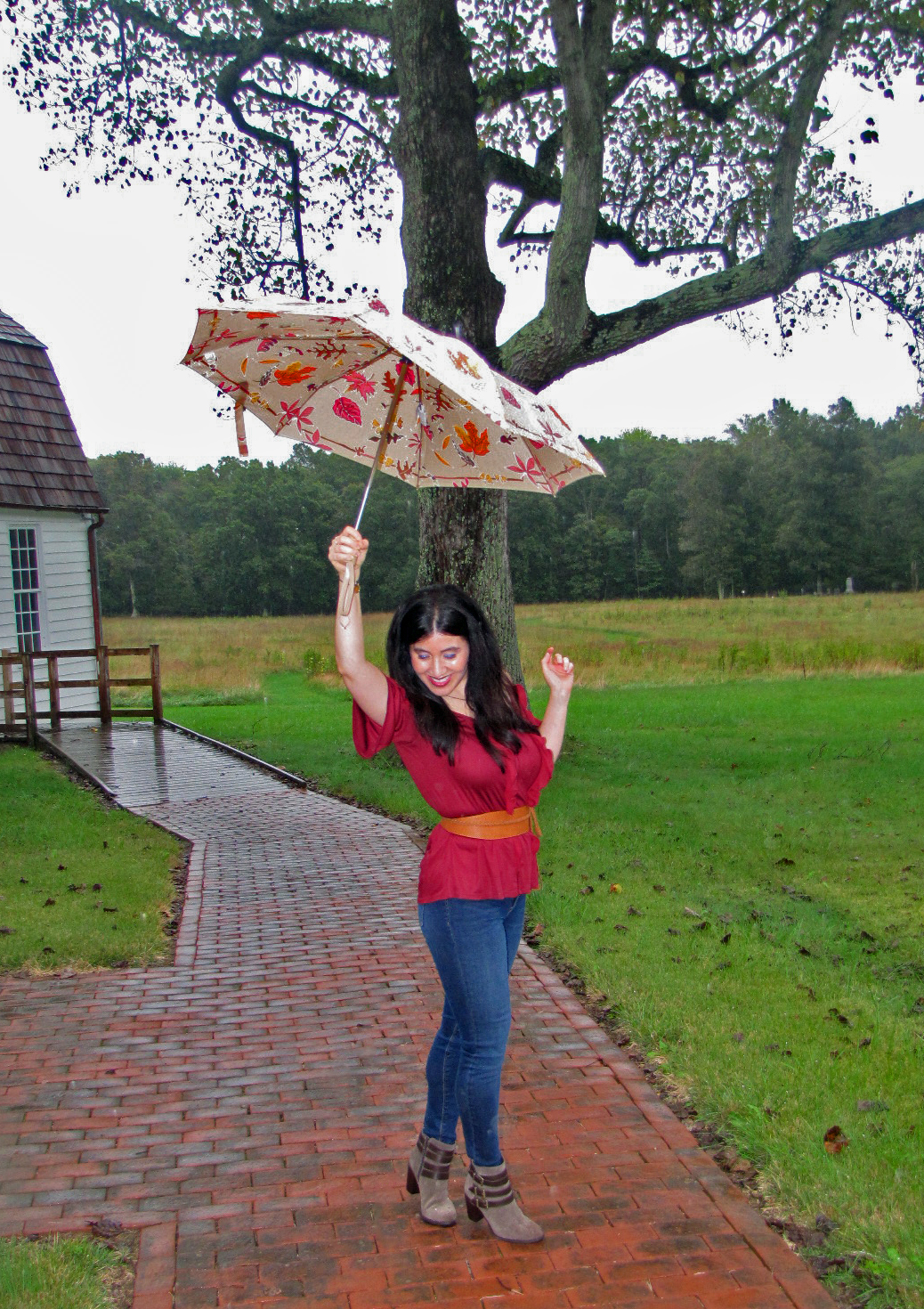 Due to the rain, we remained local for this photo shoot.  Dad and I drove to the Thomas Stone House in Port Tobacco, MD.  If you're not familiar with the name, you're not alone.  When I first moved to Southern Maryland, I had no idea who Thomas Stone was either.  However, I quickly learned that Thomas Stone was one of the 56 men who signed the Declaration of Independence.  That is quite an accomplishment for a humble planter and lawyer.
We took a tour of the house which I will write more about in next month's post.  We had hoped the rain would stop by the end of the tour, but it just rained harder.  So, we were confined to the porch for the majority of this shoot. 
This outfit is a Fall favorite because I love off-the-shoulder (OTS) tops.  In fact, OTS tops is one of Lizzy's Latest Top 5 Fall Favorites.  🙂  I like this one in particular because of the ruffle detail and the beautiful deep red shade that is so perfect for Fall.  It goes well with jean jeggings and the Laini block heel booties.  I finished the outfit off with a cute obi belt to cinch my waist.  🙂
These booties are very comfortable because the block heel is only approximately 3 inches.  The mushroom color caught my eye because it is not the typical black or cognac shades I tend to purchase this time of year.  I adore the straps and buckles which add interest and texture to the boot.  I also love the almond toe shape. 
We did take some pictures in the rain and the suede held up nicely.  These booties are still available and they come in other colors too.  They would look great with any style of jeans.  I can even picture them with a nice pair of leggings. 
Whatever your style, the Laini block heel booties would make an excellent addition to your Fall shoe collection.  They are a fun pair to wear with a cool retro-modern vibe.  🙂 
Style with a smile!