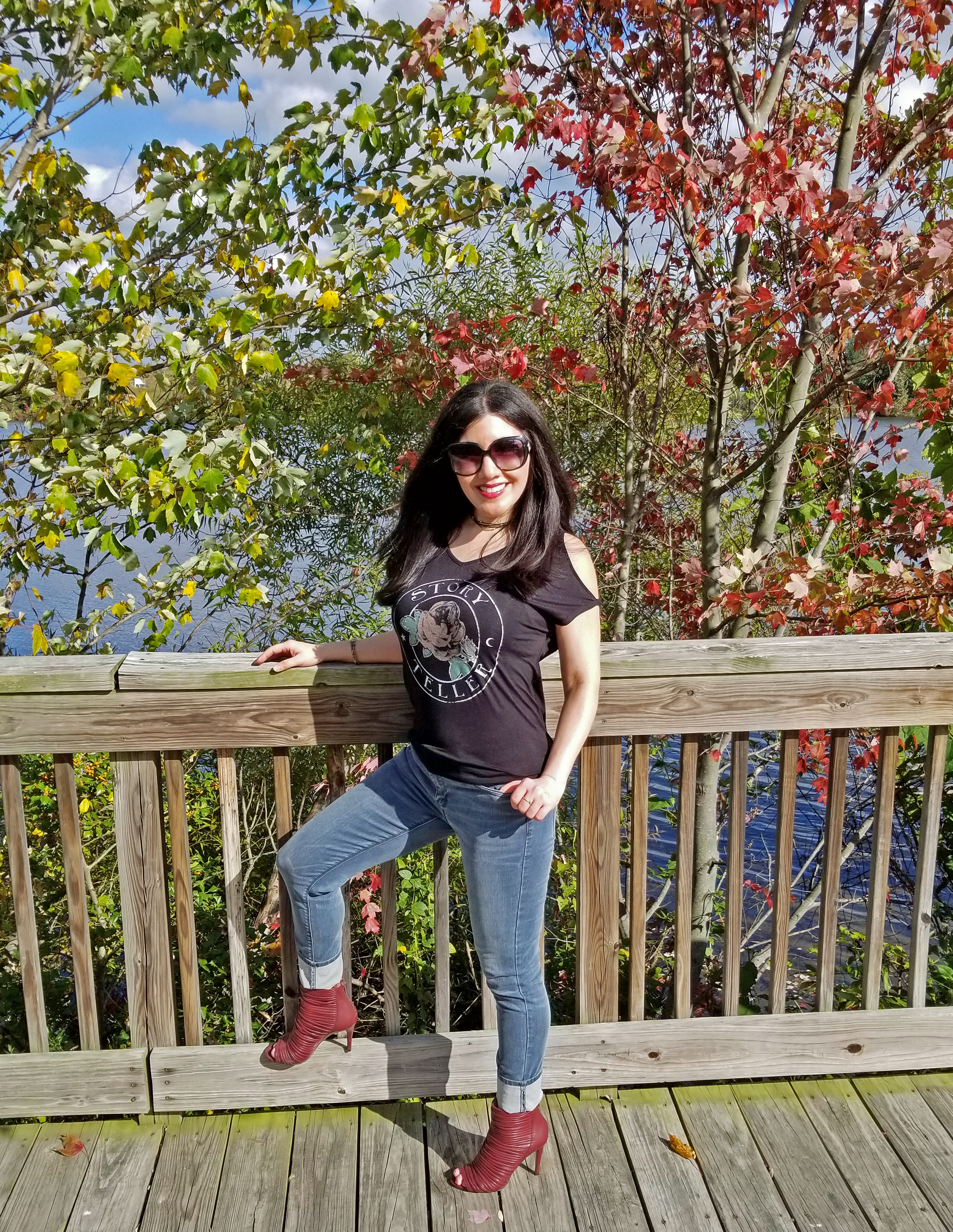 These shots were taken the same day as my torturedSoles shoot.  We finished taking pictures early for that fabulous collaboration and decided to take advantage of the beautiful Fall weather by fitting in another heel/outfit combo.  I chose the BCBGeneration Elle booties because they are so perfect for Fall!  The burgundy hue is on trend and the peep toes make it a great transition bootie for cooler weather.
To me, the booties are edgy and I wanted an outfit to compliment that vibe.  So, I paired the heels with jeans and a cold shoulder top.  With this look, we were on the lookout for gritty places to take pictures.  It was definitely a different kind of shoot!
We drove around Southern Maryland and just randomly stopped at spots that looked edgy, rough, abandoned, etc.  You get the idea!  😉  Dad thought the shots would be more authentic if I looked tough and didn't smile.  I humored him, but those shots came out awful!  Ha!  I don't do "tough chick" very well! 
During our shoot at the Gold Mine Saloon, we were interrupted by a portly man riding his bike towards us.  He was carrying bags of groceries on his handle bars and he stopped to talk to us.  He name was Saul and the groceries were for a sick friend.  He said he liked watching us take pictures.  Awkward!  Dad eventually asked if he wanted to be in some of the shots with me.  I added that I would put him on my blog.  His immediate reaction was to drop his bike and groceries and jump into the frame with me.
We continued to chit chat while Dad took some shots.  Then, everything happened so fast!  One second we were talking, the next second Saul had me in a hug.  The next second after that, he tried to kiss me!  Ewww!!!  I immediately pushed him away before that could happen while my dad jumped forward yelling, "NO KISSING!"  LOL!  Saul apologized, quickly picked up his groceries, and rode away on his bike.  We never saw him again.    
We finished the shoot at the same spot as my torturedSoles collaboration.  The Fall foliage provided a lovely backdrop and I welcomed a spot that was more girly than gritty.  😉
These stiletto heels are approximately 4 inches with a padded footbed to keep the heels comfortable.  I didn't have any issues the entire afternoon wearing them.  I also like how easy it is to slip in and out of the booties with the convenient back zip closure.     
Unfortunately, this bootie is sold out pretty much everywhere.  I found them here, though sizing is limited.  You could also do an internet search for "BCBGeneration Elle Strappy Booties" to continue searching. 
These booties are sexy!  You can also pair them with cropped cords and a sweater when the weather cools down.  At least that is what I plan to do.  🙂
Style with a smile!