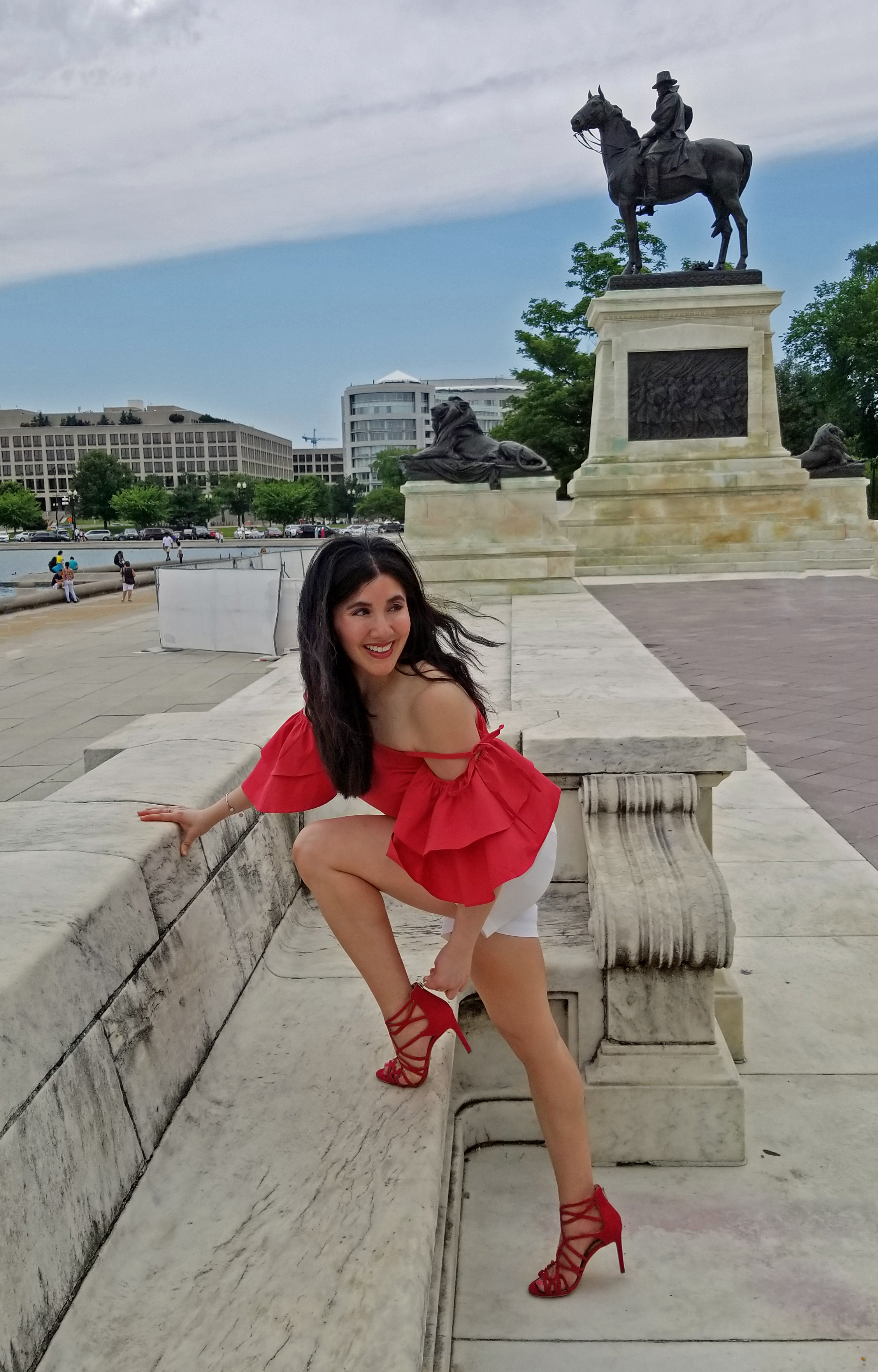 One of the best things about living in the Washington DC area is the endless options for photo shoot locales.  We decided to drive into Washington, DC to check out the Botanic Garden situated on the grounds of the U.S. Capitol.  We found great parking just across the street from it and only had to walk a short distance.  I was looking forward to the shoot until we walked in:  humidity greeted us and the tight walkways were streaming with visitors.  I gave my dad a disapproving look, but he still wanted to take some "test" shots.  We spent about 15 minutes there before I was over it.  Diva behavior according to my dad!  😉
So, we exited out a different set of doors and were amazed to see the gorgeous scenery.  In front of us was a reflecting pool and next to us was the U.S. Capitol in all its glory.  We got straight to work and started shooting from different spots.  Dad and I were pleasantly surprised to discover a monument to Ulysses S. Grant given our affinity for Civil War history.  Though, this monument is a presidential monument honoring our 18th president. 
Part way through the shoot, Dad spotted a group of Buddhist monks and thought it would be great to get a shot of me with them.  When we approached the monks, they were taking pictures of each other.  I offered to take a group shot of them and they happily obliged. 
Afterwards, I asked if I could take a picture with them and they agreed in their limited English.  The monks in the middle opened a spot for me to stand between them, but the leader quickly nixed that idea!  How embarrassing!  Then, he pointed left and I knew that was my cue to stand at the end of the group.  I walked to that last monk and we smiled shyly at each other.  I tried to put my arm around him, but he inched away.  Ooops!  Was I not supposed to touch him?!  I ended up putting my hand on his upper arm.  Awkward!  After the picture was taken, I thanked them and we politely parted ways.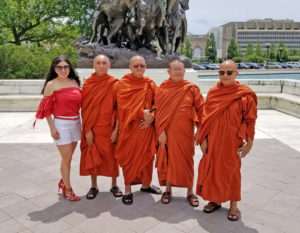 We continued the shoot and I must say these heels are super comfortable!  Vince Camuto is a great shoe brand in my opinion and that's why I feature many of their shoes on my site.  The Lorrana sandals are so sexy.  The cage look is still on trend and looks fierce in the red shade.  The stiletto heel is my perfect height at approximately 3.75 inches.  🙂
These heels are still available here,  but sizing is very limited.  They also come in a blush shade if you prefer a more neutral color, but the blush shade is almost sold out too.  If you're interested in the cage look, you could also do an internet search for "cage heels" to bring up more results. 
I paired the heels with white shorts and an off the shoulder top with ruffle sleeves.  Since we were at the Capitol, I was going for a striking yet stylish look.  Dramatic sleeves seemed appropriate and are so popular right now.  Combined with an off the shoulder top and cage heels, the result is super sexy and chic!  I really enjoyed posing in this heel/outfit combo.
Of course, these heels would look great with skirts and dresses too. AND…the sandals will transition nicely into Fall when paired with skinny ankle jeans.  These are definitely another great pair of versatile heels to add to your collection and make it your own!  🙂          
Style with a smile!