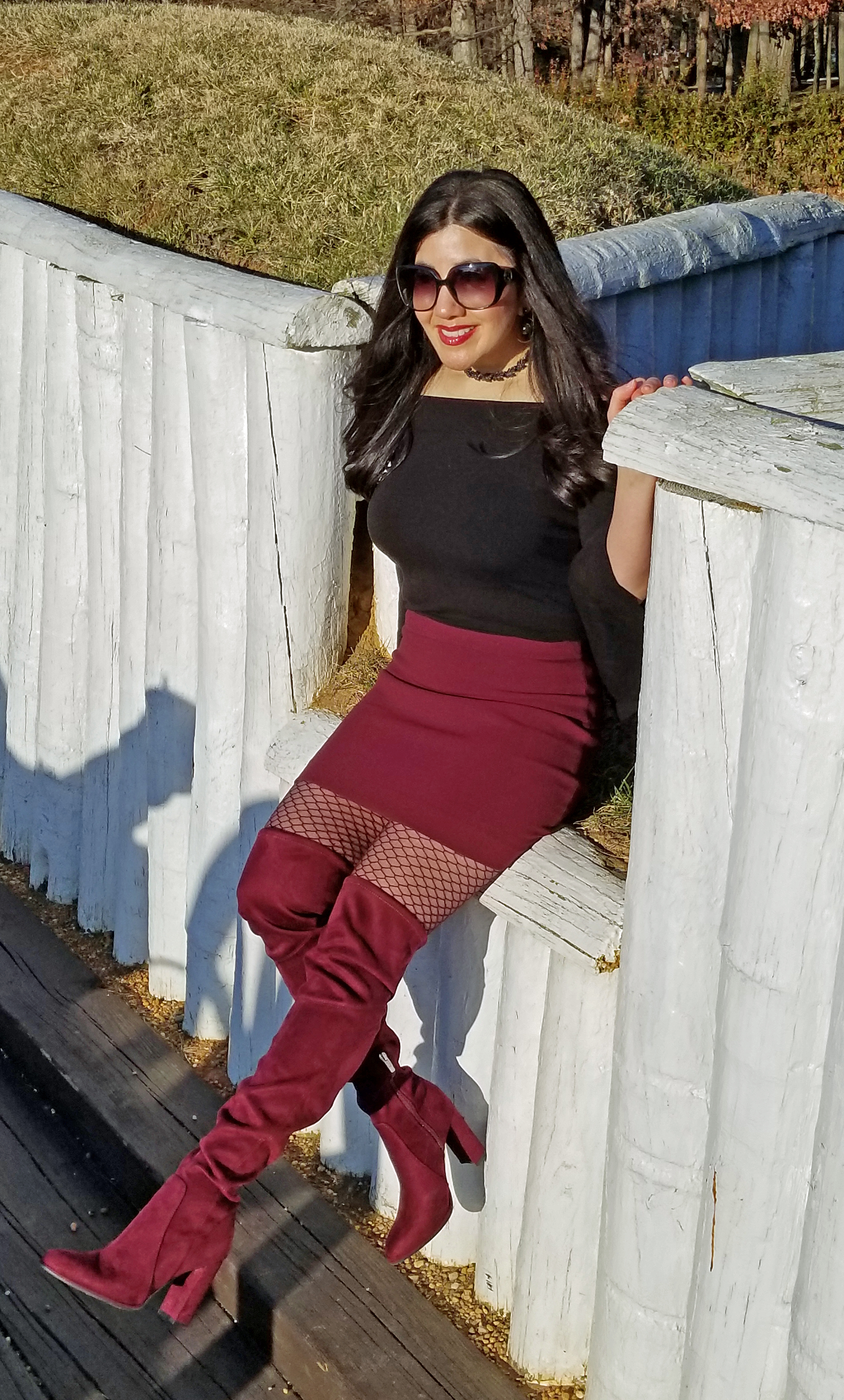 Every Christmas I volunteer at the former Museum of the Confederacy (now the American Civil War Museum) for Court End Christmas.  I've had the honor of being Santa's Elf every year and it's always great catching up with my favorite Santa – the real Santa!  😉
During down time, we caught up on the year's events since we only see each other once a year.  Santa likes my blog and was asking me about future photo shoot locations.  I confessed finding locations was getting harder and that's when he suggested Fort Ward in Alexandria, VA.  I was not familiar with this place, but got curious after Santa spoke about the dramatic white gates.  He thought it would make for a beautiful backdrop for pictures.
The next weekend, Dad and I found our way to Fort Ward.  We watched a short video about the fort at the Visitor's Center.  Fort Ward protected Washington, DC during the American Civil War.  It was the 5th largest fort out of 68 major forts protecting the Union capital.  It never saw any major conflict and amazingly, over 90% of its earthworks remain unmolested. 
After the video, we made our way out to the park and WOW!  Santa was right.  Those white gates are dramatic and quite stunning.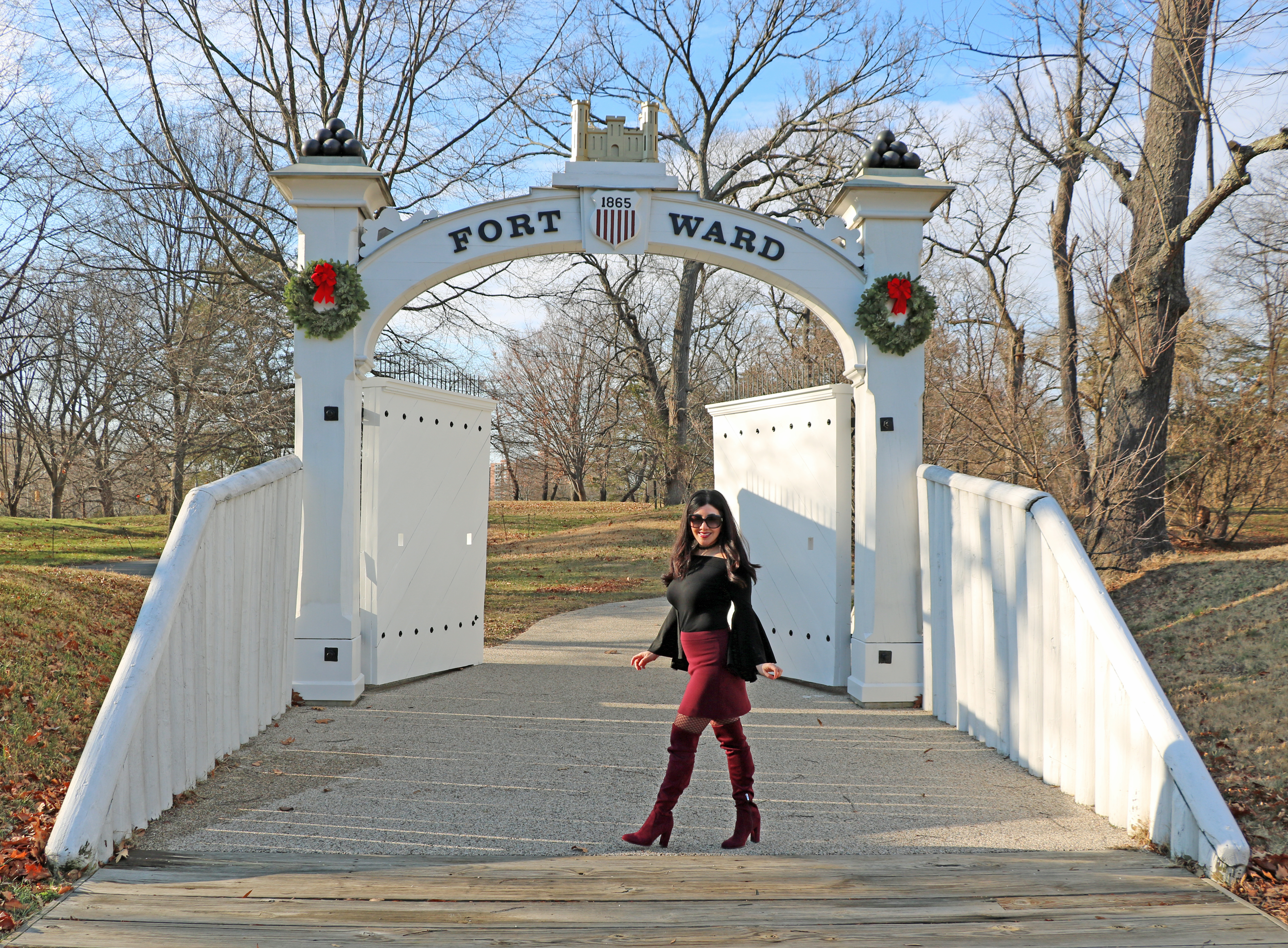 I was relieved the park was not too crowded so we were able to start the shoot at the gates. 
I upgraded my camera to a Canon Rebel EOS T6i and it was our first time using the camera for a shoot.  I'm so glad we had this camera because the pictures came out so much nicer.  The range was better too so that we were able to get decent gate shots.  Of course, Dad and I are both novices when it comes to DSLR cameras, so there were focusing issues, but that was more user error.  😉
What was not an error was buying these gorgeous over the knee boots!  I admit, for many years I stayed away from boots like these because I didn't think they would look good on my vertically challenged body.  I believed the boots would overwhelm my short legs.  Then, I started seeing other petite bloggers rock them and eventually, I was inspired.  🙂
I'd been eyeing them on the Boston Proper website for some time.  The wine hue is so gorgeous, even better looking in person.  🙂  I love the heel height at approximately 4 inches.  If you have short legs like me, I recommend going with OTK boots that have a heel for a leg lengthening effect and a more sexy look. 😉  These boots have a cushioned footbed making walking in these very comfortable for long periods of time.  I wore these boots all afternoon and to dinner in the evening without feeling any discomfort.  Once they were on, I did not want to take them off! 
The boots were perfect for this shoot because they kept my legs warm.  I paired the boots with a mini skirt in the same shade.  Interestingly, I was looking for a black mini skirt, but I could not find my size.  I became dejected thinking I would not have an outfit for these boots until I accidentally stumbled across this skirt hidden between two tops in another section of the store.  Since I don't believe in coincidences, I knew this skirt was meant for these boots!  I found this sexy off the shoulder top with dramatic sleeves soon after finding the skirt.  I couldn't believe my luck!  🙂  The fishnets were also accidental.  I was on the Spanx website browsing hosiery when I came across these fishnet tights in the same color as the boot and skirt.  I purchased it immediately!
I really love how this outfit came together!  It is one of my favorite looks on the blog thus far.  I hope you like it too!  🙂  These boots are in limited supply, but on sale here at the time of this post or here.  You could also do an internet search for "Marc Fisher Nella Over the Knee Boots" for more options.   
These boots can be worn more casually with a pair of jeans and a cute poncho.   That was my original look for these boots.  Then, I decided I wanted the look to be more sexy.  😉  Of course, I will eventually share the other look too.  🙂 
If you're considering purchasing a pair of OTK boots, I would encourage you to do so!  I never imagined the confidence I felt wearing these boots!  However, I would recommend before purchase:
Finding a pair with heels for that leg lengthening illusion if you're petite. 

Fit is important too. Make sure to consider circumference and the shaft height.  I went to a department store to try on different OTK boots to get an idea of what fit me before purchasing this pair.  You don't want the boot to feel too tight (uncomfortable) or too loose (this looks sloppy and will add bulk to your legs).  A snug fit is perfect.

Talk to friends and read reviews to get a feel for what other consumers think.  This helped me a lot during my search.   
Is there anything else you would add? 
I hope this inspires you to find the perfect OTK boots for yourself!  You won't regret it!  OTK boots are so sexy and so current.  With so many styles and colors to choose from, I'm certain you'll find something that conveys your beautiful fashion sense.  🙂
Style with a smile!