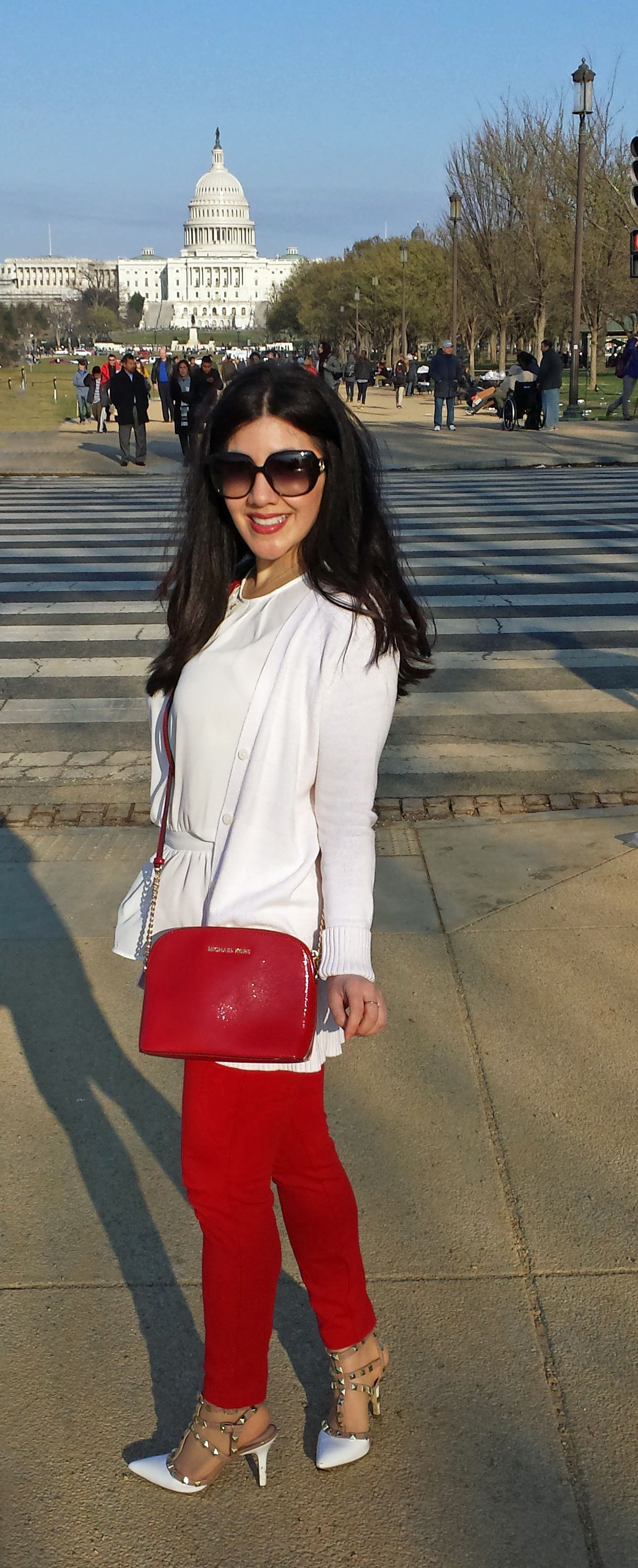 Welcome to another segment of Shoespiration!  🙂  These heels were featured on the blog in the Fall of 2015.  They are an imitation of the Rockstud pumps made famous by Italian fashion designer, Valentino.  The gold studs are so edgy and I always feel so sexy when I wear these heels…which is often!  😉  I do have one disappointment with these pumps and that is a couple of the studs have popped out from time to time over the years.  Fortunately, the few times this has happened, I was aware.  So, I am constantly checking to make sure all my studs are accounted for when I do wear these heels.
This time around, I paired the heels with red leggings, a cream colored peplum top, a cream colored cardigan, and my favorite red purse from Michael Kors.  It's the perfect outfit for a Spring day:  casual chic and effortless.  🙂  We took these shots in Washington, DC on the same day of the photo shoot for the current heels featured in my April post.  This time our location was the Hirshhorn Museum and Sculpture Garden which was quite a walk from our parking location.  I must confess, my feet were feeling the effects of all day walking in 2 different pairs of heels.  I remember wishing I had brought a pair of flip-flops to change into!  😉    
On the way back, we passed the Capitol and on a whim took some shots in front of it.  I ended up liking these last minute shots the best.  🙂  As we trekked back to the car, a random guy caught my attention.  He yelled, "Pretty girl!  Look at you all fancy in your red pants!"  I'm sure I blushed!  Then, I smiled and thanked him.  🙂 
In hindsight, the red pants are nice pop of color, don't you think?  😉
Have a great rest of your week!  Lizzy's Latest will feature a new pair of heels on Monday, May 15th!
Style with a Smile!