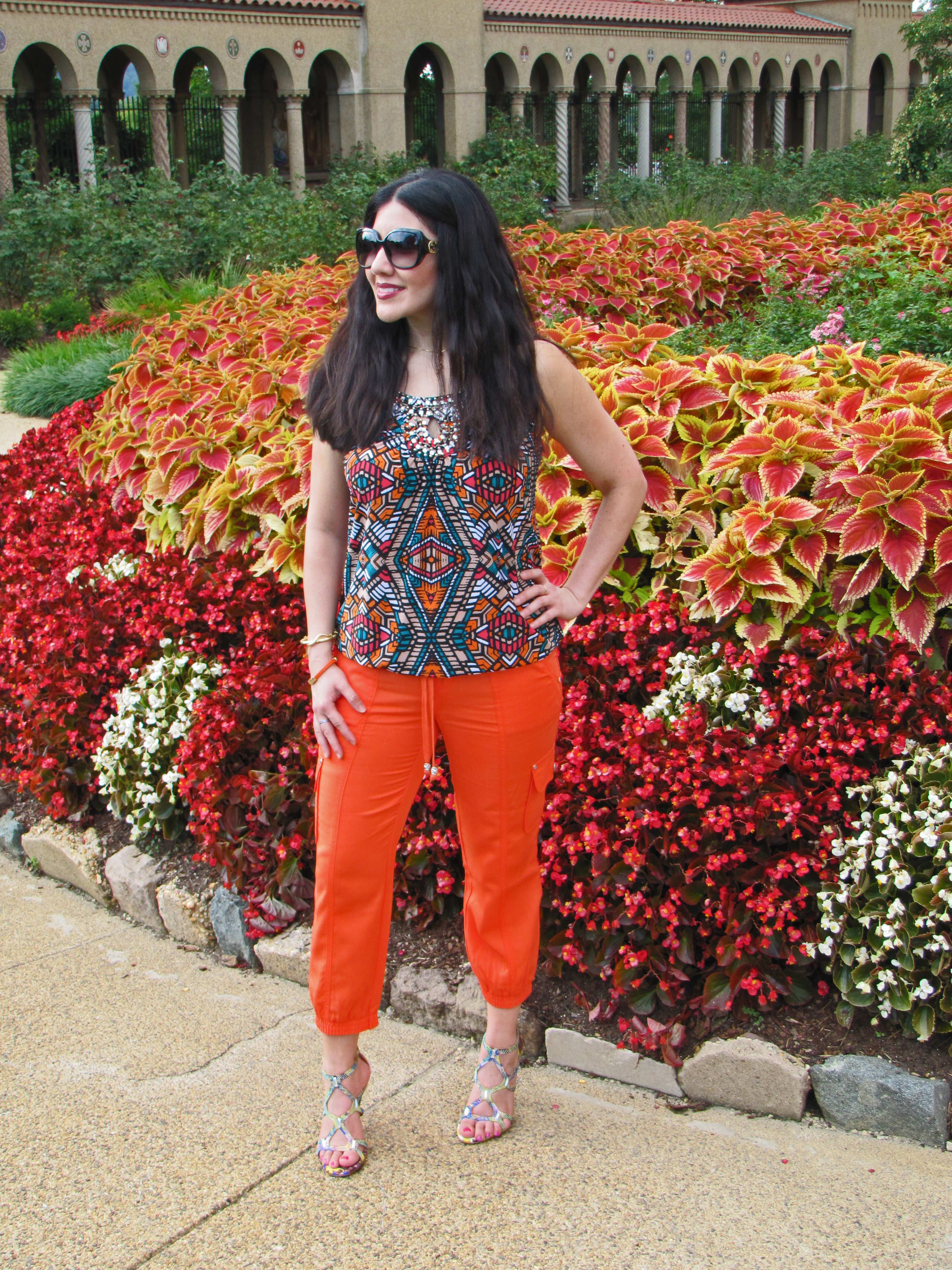 This summer I got into the jogger pants craze.  I found these orange cropped joggers at Macy's.  I bought them about two months ago, but never wore them because I could not find a matching top or heels.
Then, while perusing shoes on the Macy's website, I stumbled upon these Madden Girl Digitize heels.  They are round toe sandals with rhinestone accents.  I bought mine in "bright floral multi" and they are beautiful with purple and yellow with specks of orangey brown.  I knew these would be the heels paired with the joggers.  Now if only I had a top…
I had originally wanted a form fitting purple cropped top.  I searched and searched for the top I pictured in my mind to no avail.  Then, while putting together my heel/outfit combos for last Saturday's photo shoot, I discovered a top I had forgotten I had bought earlier in the season.  Coincidentally, I spotted it right next to the orange joggers.  Funny how things work out like that sometimes.  😉
I call this look my "sporty-glam" look.  🙂  I love the convenience of cropped joggers, but I wanted to glam them up with "functional" heels.  The Digitize sandals are only about 3.5 inches, perfect for quick errands.  However, the heels are lacking a decent footbed making them uncomfortable after a period of time.  I could stand for about an hour or so in them before the "my feet hurt" thought entered my mind.
Overall, cute heels…but don't stand too long in them. Or bring flats to change into like I did.  😉
The heels are still available at Macy's and they are on sale right now.
Style with a smile!