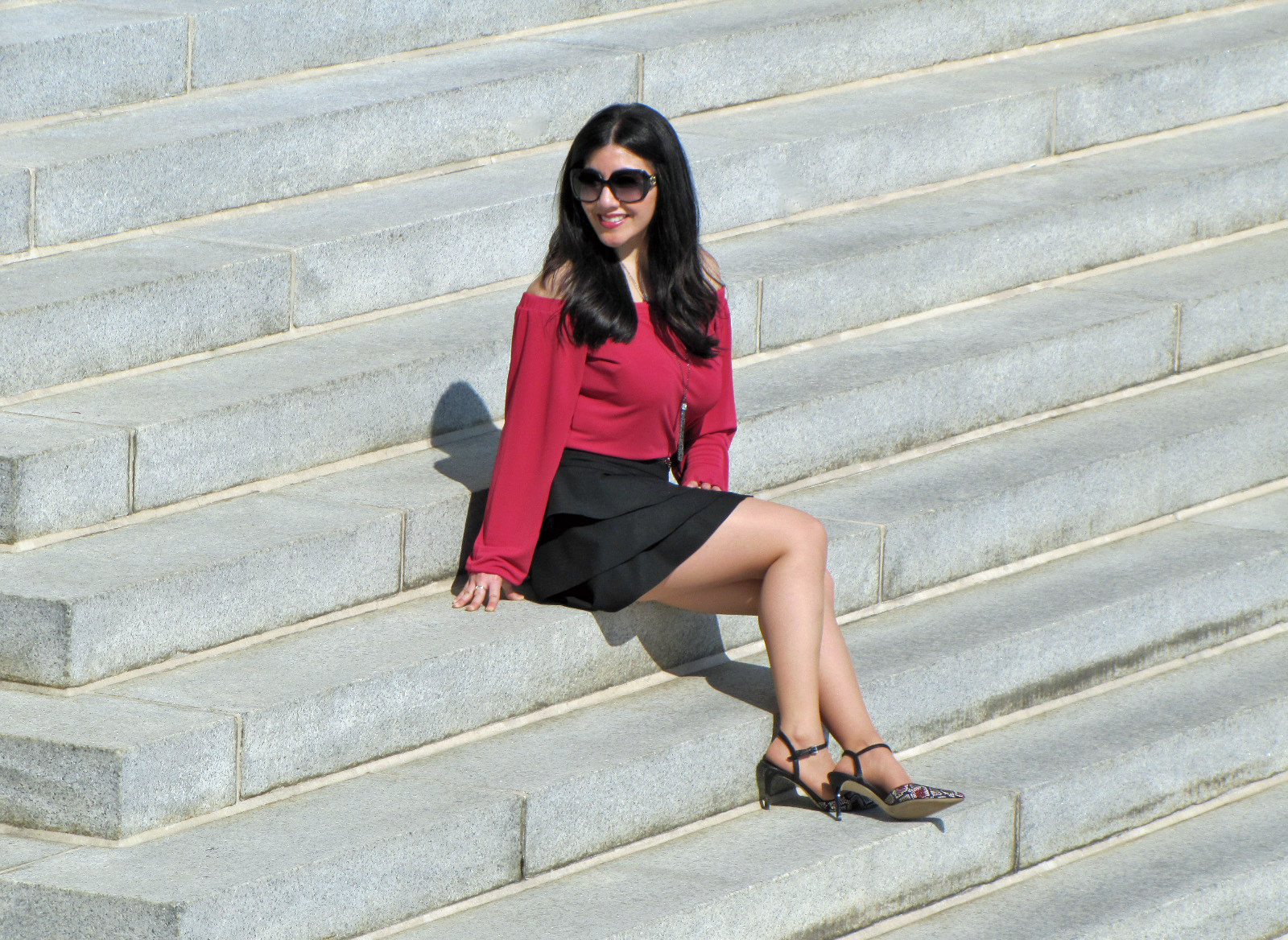 There have been times over the last year when a lack of photo shoot planning led to a reliance on spontaneity.  This was one of those weekends.  Call it procrastination or laziness, perhaps a little of both, but I had no particular destination in mind other than it had to be local.  Dad suggested DC, but I was lukewarm to the idea.  The thought of taking pics in a crowd didn't appeal to me and I was also thinking about my dad's aversion to jam-packed places.  The last thing I wanted was an aggravated photographer.  😉  However, with no other option, DC became the default location.
Once in DC, we drove by the Hirshhorn Museum and Sculpture Garden.  Dad thought that would be a unique place to take pics, so we found parking about a mile away.  Fortunately, these Michael Kors Ciara pumps are very comfortable!  The lacquered heel is only approximately 3.25 inches making walking the city blocks a breeze.
On our way to the Hirshhorn, Dad caught a glimpse of an eyesore of a brick tower near the Court of Appeals at Judiciary Square.  He had read about that tower in the Washington Post a weekend or two previous.  He was adamant we stop and take pictures there instead.  I looked at it, shook my head, and asked, "Seriously?"  Dad said, "YES!"  So, we crossed the street.  The closer we got to it, the greater my skepticism grew that we would find a nice spot to take pictures.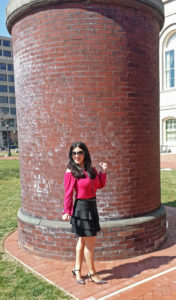 We took several shots at the tower.  It turns out, this "blemish" is a 19th century brick vent shaft.  Before air-conditioning, it was structures like this that would circulate air into nearby buildings such as the courthouse.  The brick tower is 14 feet tall and 8 feet wide.
We remained here for the entire shoot.  At one point we had a couple photo shoot crashers.  😉  This adorable little girl remained at the bottom of the stairs watching us.  Then, her little brother joined her, though he was not as impressed.  I encouraged them to come up and they did; running past us and down the other set of stairs.  🙂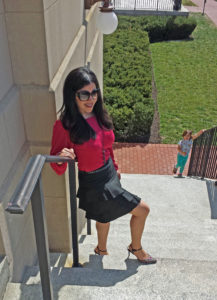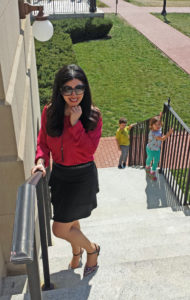 We continued with the shoot.  I really love these heels!  I have to admit they were an impulse purchase. The multi-pink studded detail in a snake-skin motif caught my eye.  I had to have these!  I already knew I would pair them with the pink off-the-shoulder top I had just purchased a few weekends ago.  🙂  I completed the look with a black tiered mini skirt giving it a sexy Latin vibe.
The heel is still available, but are a tad pricey.  At the time of this post, they are on sale here.  You can also do a quick internet search for "Michael Kors Ciara Pumps" to reveal more options.
This is a beautiful classic ankle strap heel with a touch of sexiness.  Pair them with dresses and skirts.  I could even imagine them with jeans.  Though, you know me, I always like to show a little leg!  😉  
Style with a smile!