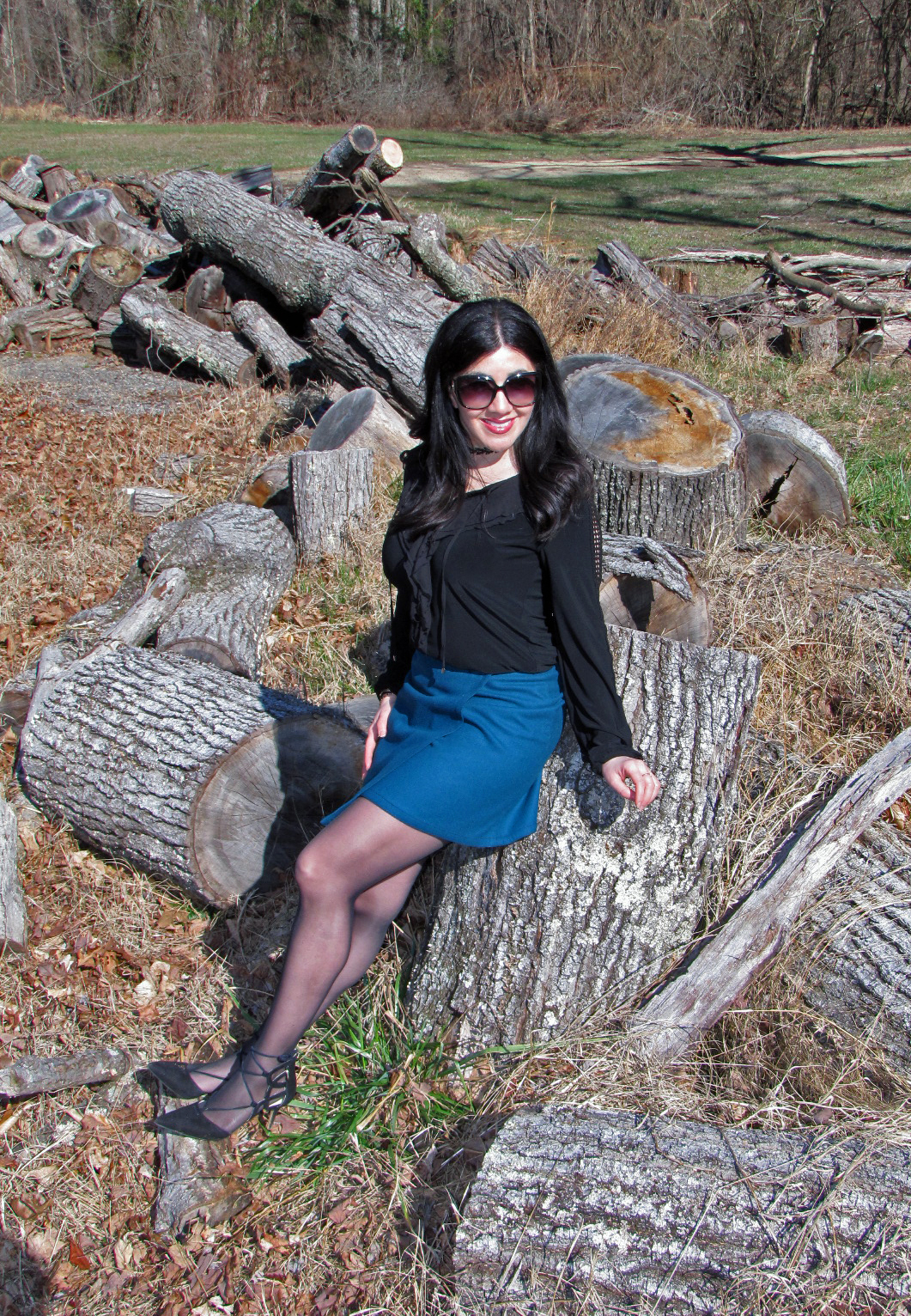 Lately, it seems every weekend I plan to take pictures, the weather turns cold.  The weekend of this photo shoot was no exception.  The temperature stayed in the 30s and the wind was gusty for the majority of the shoot.  However, with St. Patrick's Day in March, I was determined to share this cute asymmetrical green skirt.  🙂
We stayed local and headed to Smallwood State Park.  The park is named after General William Smallwood, a Revolutionary War veteran.  He was also Maryland's fourth Governor.  It was during his governorship that the state of Maryland adopted the United States Constitution.  I found it interesting that Smallwood never married and died on Valentine's Day, 1792.
The park was empty save for some maintenance crew who disappeared as quickly as they appeared.  Perhaps a foreshadow of the ambiance we would encounter?  😉  We found an abandoned house surrounded by scattered tree logs.  Perfect for this shoot!  The dilapidated house itself appeared ominous.  It felt like someone or something was watching us from inside.  Of course, I didn't mind because if you're a regular reader, you know I love haunted places.  🙂  Dad, on the other hand, felt creeped out from the moment he exited the car.
The toughest moment for me was parting with my scarf and jacket.  Thank goodness for the bright sunshine that staved off the shivering, at least for a little while.  🙂  These pumps were perfect for this environment.  The stiletto heels, at approximately 3.5 inches, were not too high.  So, it made climbing on the logs (and jumping off) fairly easy.  🙂  I wish the heel could have been higher!  Despite, these Marc Fisher suede pumps are very comfortable.
When we moved closer to the house for shots in the shade, the atmosphere was a little unsettling.  We kept hearing a creaking noise which we debunked as an open utility box blowing back and forth in the wind.  Then, Dad became alarmed at the gobs of vultures circling us high in the sky.  It seemed every move we made was being tracked by the vultures!  At one point, Dad was transfixed and stopped taking pictures.  I, on the other hand, was indifferent.  I was getting colder and wanted Dad to just take the pictures.  😉  He eventually resumed picture taking and I was able to get more shots of these lovely heels.  🙂            
What I love about these heels are the lace-up details.  I find lace-ups to be sexy and playful.  In my opinion, it takes an ordinary pump up a fashion notch.  Zip up detail in the back makes slipping into these heels a cinch.         
I purchased these heels last year some time and they are a little hard to find now.  I did find a selection here and another similar alternative here.  You can also do a quick internet search for "Marc Fisher Truthe Suede Lace-Up Pumps" to reveal more options.     
I paired these heels with a black ruffle top, beautiful black choker, green asymmetrical skirt, and black tights.  It is a chic look that can go from a day in the office to a date in the evening.  To keep the look more conservative, skip the choker and wear a simple gold necklace to complete the look.  The heels would also look great with knee-length or mini dresses.  With lace-up heels, I insist you must show some leg to reveal the beauty of these pumps!  😉
Style with a smile!