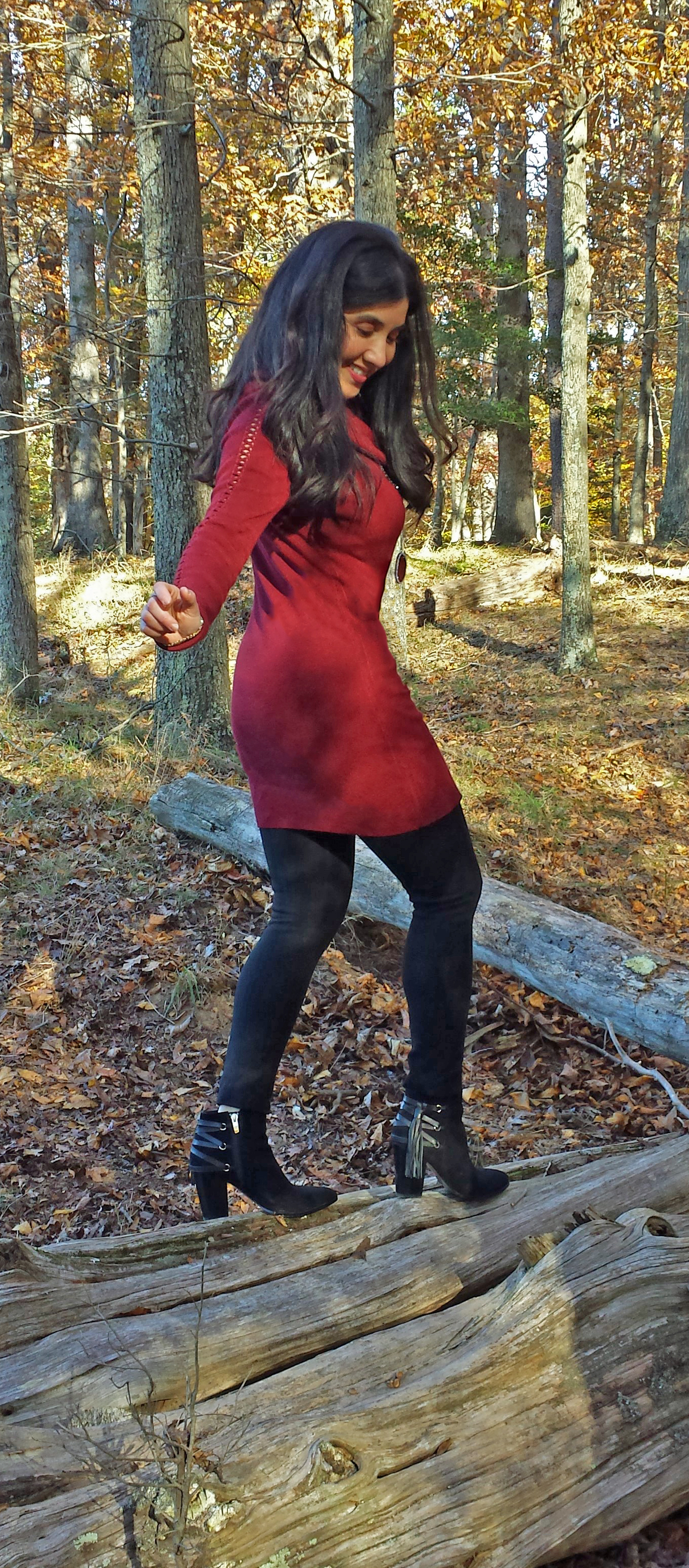 Is it just me or are you still scrambling to get "everything" done before Christmas?  Time always escapes me this time of year, but even more so this year!  With only 4 days left until Christmas, I've yet to send out Christmas cards. 
I'm behind on this blog too.  I had plans to publish two history posts before Christmas.  One on the Battle of the Crater (American Civil War) and the other on Thomas Stone, one of the 56 men who signed the Declaration of Independence.  They are still in the pipeline and I hope to publish them soon.  I think once the holidays are over, I will have more time to work on these posts.
In the meantime, this photo shoot was taken at the Thomas Stone house.  The beauty of nature surrounds the property making for a picturesque background in the peak of Fall.  We found some logs in the woods for me to pose on and my dad caught some great shots like the cover shot for this post.  Here's another shot of me losing my balance on the log  ;-):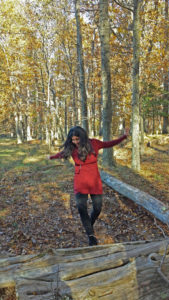 Thank goodness these booties have block heels that are less than 3.5 inches high.  Given my propensity to climb (I was a tomboy growing up!), the block heels made it much easier to navigate the uneven terrain.  They remained comfortable as I ran around and even balanced myself on the log. 
If you're a regular reader of my blog, you know I am an indoors girl.  Yet, I love taking blog pics in nature. Most times the photo shoot is peaceful.  Sometimes, something stirs or an odd sound is heard and I am startled!  That afternoon something loud and guttural made itself known high in the trees.  I was sitting on the log when we heard that sound.  I looked up terrified and my dad caught the shot perfectly (lol!):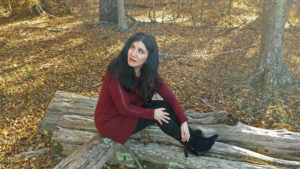 Fortunately, it was nothing and my fear dissipated just as quickly as it had emerged.  I remember looking at my boots and admiring the the criss-cross straps in the back and the flirty tassels on the side.  These lovely details really amp up the style of an otherwise basic black boot.  I paired them with black leggings and a red cowl neck tunic.  I call this look casual and chic with a touch of sexy.  🙂             
These booties are still available too and also come in a dark green color.  In addition to leggings, these boots would look great with jeans for a casual look.  Or pair them with tights, mini skirt, and a blazer for a more sophisticated, preppy look.
These boots are versatile yet classic enough to last for many years to come.  They would make a great addition to your shoe collection.  🙂 
Lizzy's Latest will return with a new pair of heels the week of January 15th.   
Style with a smile!