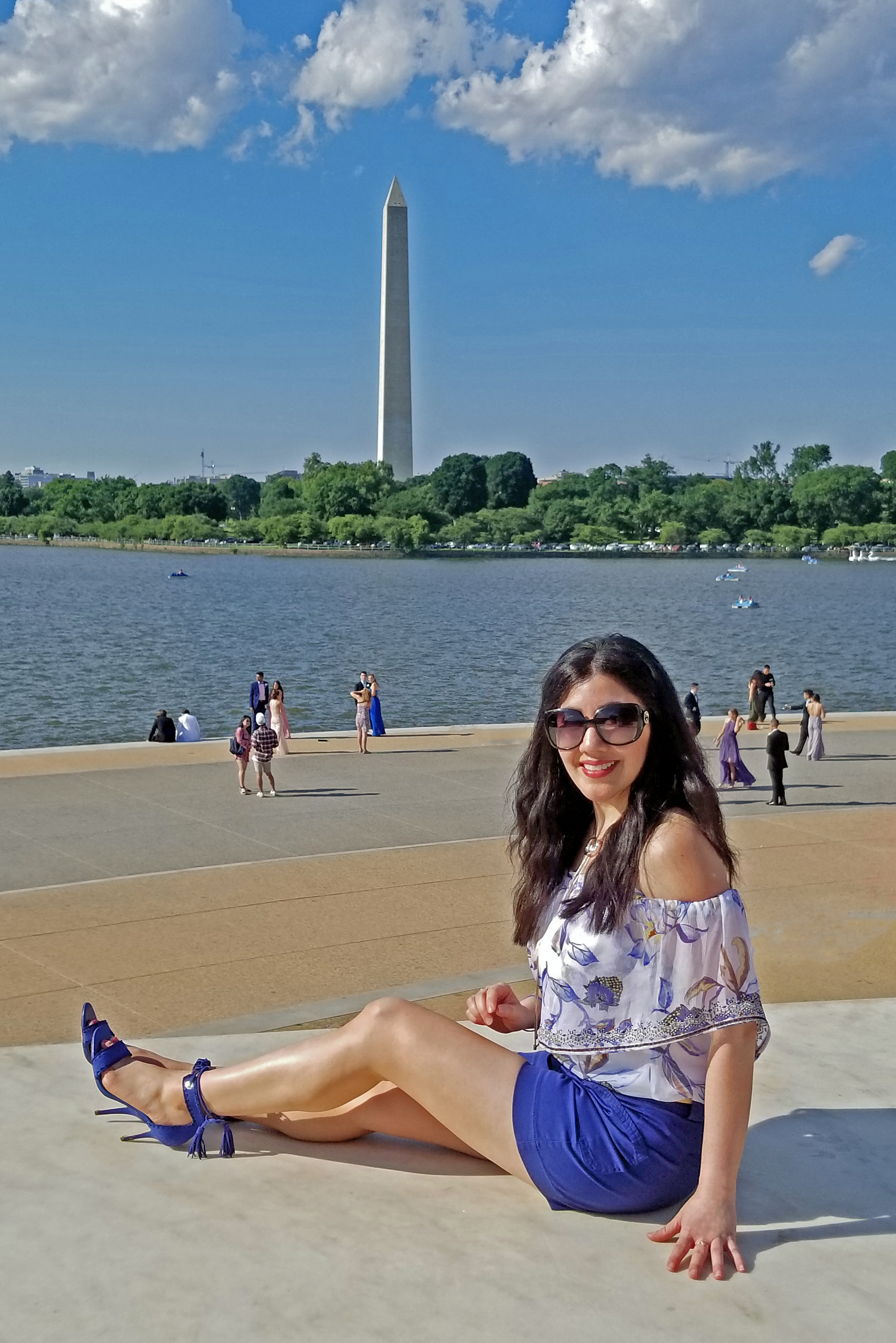 Blue is my favorite color; so imagine my delight when I came across this lovely pair from White House Black Market.  The vivid blue caught my eye and the tassel ties add a flirty touch making these sandals the perfect accessory for summertime fun.    
Our destination was the Jefferson Memorial in Washington, DC for this second photo shoot of the day.  We took our initial "test" shots inside the rotunda where the massive 19-foot bronze statue of Jefferson stands.  Since we could not find a quiet spot in front of Jefferson, we opted for pics behind him.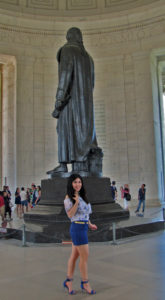 We stayed here for a little bit because there were benches and I needed my feet to rest.  I have to confess after being in heels all day the previous day and then finishing the first photo shoot earlier that afternoon, my feet were in a bit of discomfort.  To remedy this minor irritation, we took sitting/lounging shots such as this one.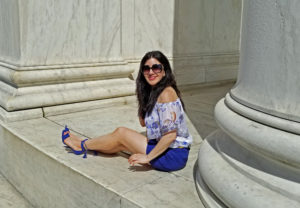 It was during this pose that an older Japanese man with an impressive looking camera made his presence known.  He stopped to watch the photo shoot with a smile on his face, but said nothing.  Eventually, I looked over at him and said "hi."  He nodded and then walked away.  Then, he came back and pointed to his camera.  Dad concluded the man wanted a picture of me.  I found the situation a little strange, but I acquiesced.  He took a couple shots, gave us a smile, and then walked away.  We never saw him again.  Dad joked that I would probably be on some billboard in Japan promoting a product.  Ha!  If so, I'd like to know how to collect my share of the royalties!  😉 
Our only other interruption occurred while taking pics on the steps.  As I was standing in my favorite DC pose, a cute little girl came out of nowhere and stole the show.  Dad captured this shot as she strutted down those steps with ease, even running her fingers through her hair for maximum fashionista impact!  😉  Notice my amusement as I was quite taken by this sassy little girl.  🙂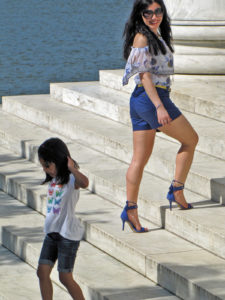 Our final shots were taken at the front of the Jefferson Memorial.  I love sashaying in these heels because the tassels swing from side to side with every step.  I feel confident and sexy when I walk in these heels!  White House Black Market's proprietary cushiony footbed makes these sandals quite comfortable.  The heels are not very high at approximately 3.25 inches making them easy to walk in too. 
Unfortunately, these heels are almost sold out here.  Some alternatives to consider are here and here.             
I dressed up the sandals with blue shorts and an off-the-shoulder (OTS) top.  It's a perfect outfit to wear for date night.  They would also look great with skirts and dresses.  These heels are so versatile that the possibilities are endless!  
Style with a smile!