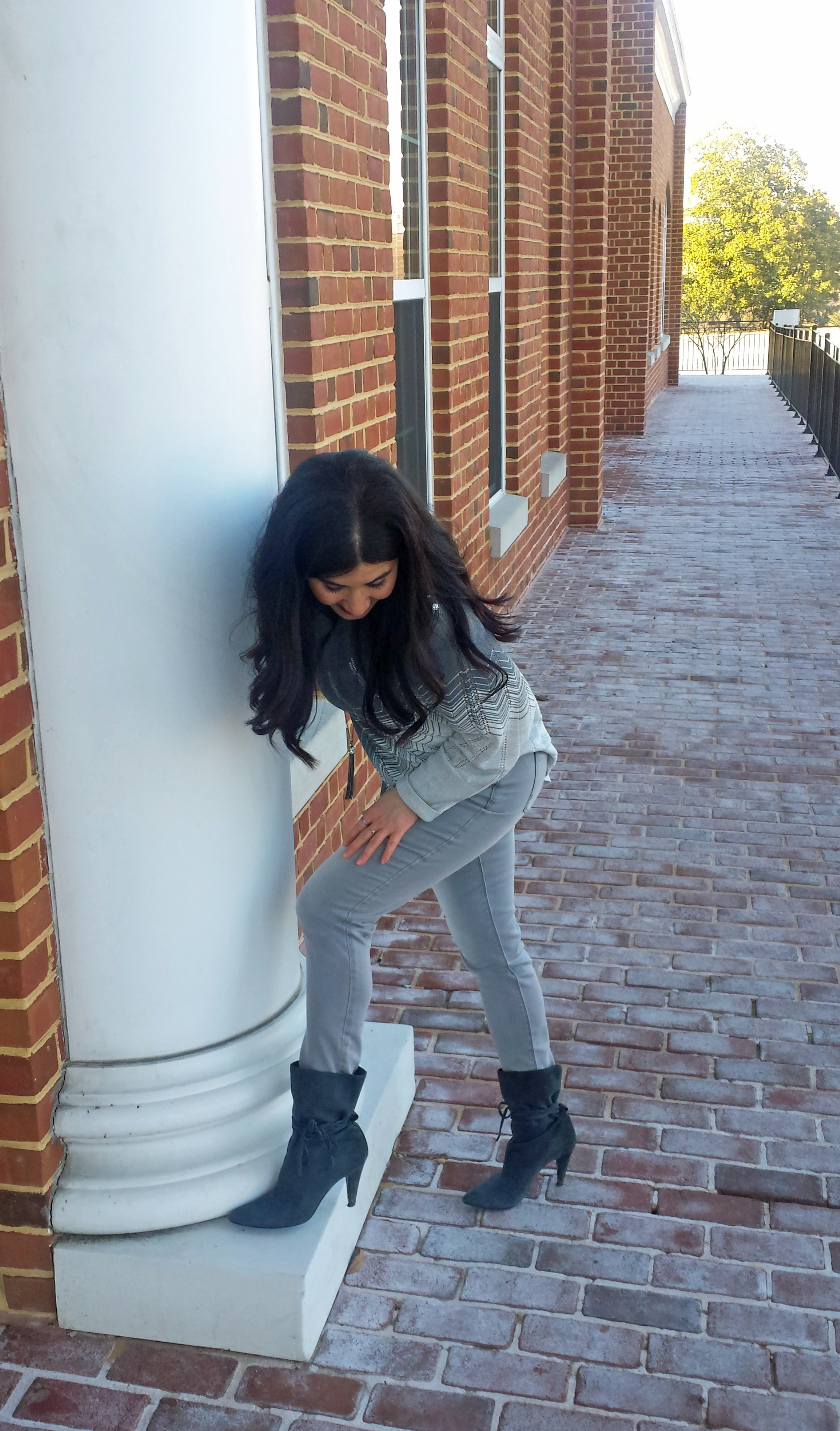 When we shot this photo shoot a few weekends ago, it was meant for a mini blog post.  My intent was to have a new segment on the blog that would feature fashion inspiration in between full blog posts.  It would be my way to stay connected with all of you in the interim because publishing monthly sometimes feels like too long of an absence, at least to me.  However, we took so many great shots that I decided to bump the heel/outfit combo I initially had for February and go with this heel/outfit combo instead.  And just FYI…the new segment is still in the works.  So, stay tuned!
The day of the shoot was sunny, but cold.  We stayed local opting for pics at the court house because we thought this would be a quick shoot.  Plus I wanted white doors and columns in some of the shots because I felt it would make a nice backdrop to the grey color scheme.  The bonus I didn't anticipate was the salt treatment on some of the red brick sidewalks making the walkways appear snow dusted and adding a nice contrast to the boots.
Now, I've had these boots for many years.  It's so hard to find grey mid-calf boots with a stiletto heel that is sexy and comfortable.  When Nine West collaborated with fashion philanthropist, Cameron Silver, years ago, the result was this chic, retro-modern boot.  The stiletto heel height is nice at approximately 3.25 inches.  I have worn this pair all day long at times over the years and I've never felt any discomfort.  They truly are the perfect pair of heels!     
These boots are supposed to be reminiscent of 80s punk, but I see a classy, pointy-toed suede boot.  The wrap-around ankle strap give it a flirtatious vibe, in my opinion.  These details make wearing this boot so much fun, but I try not to wear them too often because I want them to last forever.  🙂 
Unfortunately, because I purchased these boots years ago, they are no longer available.  I found a very pricey alternative here.  Here's a more reasonably priced alternative (but without the wrap-around ankle strap detail). 
I paired these boots with grey jeans and this beautiful grey poncho with zigzag detail.  I have to admit, I've never been one to wear a poncho because I always felt they looked too boxy/bulky on my petite frame.  However, this one has sleeves giving the appearance of a little cinching on the sides.  This creates a nice streamlined look for this grey on grey attire.  Very casual-chic!   
Of course, if you're looking for something simple, pair the boots with jeans or cords.  Add a cute sweater and you're ready to run some weekend errands or meet up with friends.  Replace with a dressy top and you're ready for a casual date night. 
Whatever your style, this boot is quite versatile.  🙂        
Style with a smile!